ARTIFACT 2: OF CELESTIALS AND MASTER SPARKS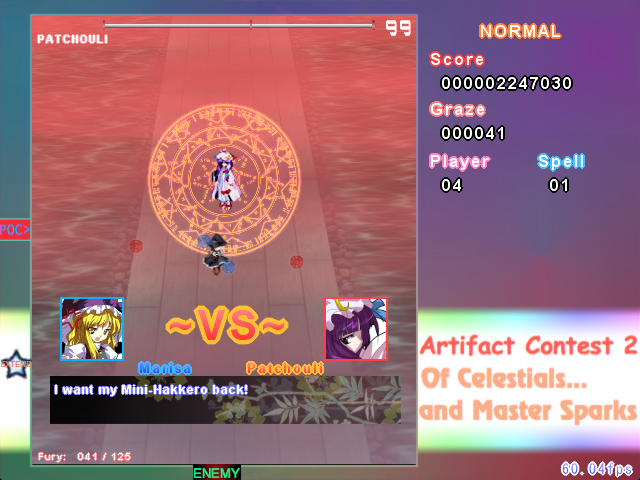 RELEASE INFORMATION
Release Date: April 10, 2014
Download: Download RC-2 (March 25, 2016) [+archive_img]
Install: Place the unarchived directory within the 'script' directory of your copy of Touhou Danmakufu ph3 [.1]
Official Post: Archive MotK (Original Post)
GAMEPLAY AND SYNOPSIS
My Artifact 2 Contest Entry is a standard Touhou-esque vertical scrolling shooter with two difficulty options and two effect-handling options.
The main feature of this script (due to the contest) is Tenshi and Patchouli having copies of Marisa's Mini-Hakkero. And yes, they do in fact use them. This script is structured similar to an Extra Stage, with a stage portion, a Patchouli midboss where she actually uses the Hakkero, and a Tenshi boss including a SWR-inspired weather spell rush.
There is a 'Fury' system built in that handles the POC and Extends. As you graze, the POC goes down until you reach an extend, similar to in Marine Benefit. Resources can be farmed in certain parts of the script using this method as long as the player is skilled enough.
POSTMORTEM
[January 19, 2016]
Extremely depressingly bad stage portion aside, this script was one of my better ones. It contains (surprisingly) one of my best in-game dialogues ever (midboss), and is surprisingly fun. And although it wasn't amazingly fun to make like some of the other scripts, it came out pretty good, so I can't complain.
LEGAL AND CREDITS
The Touhou Project is owned by Team Shanghai Alice (ZUN). Various graphics in this game are not original and originate from official and Touhou Project games.
I do not and will not allow unauthorized redistribution of this game and/or use of original code/assets without express permission.