LOCAA 6: DANMAKUFU TROLL STARS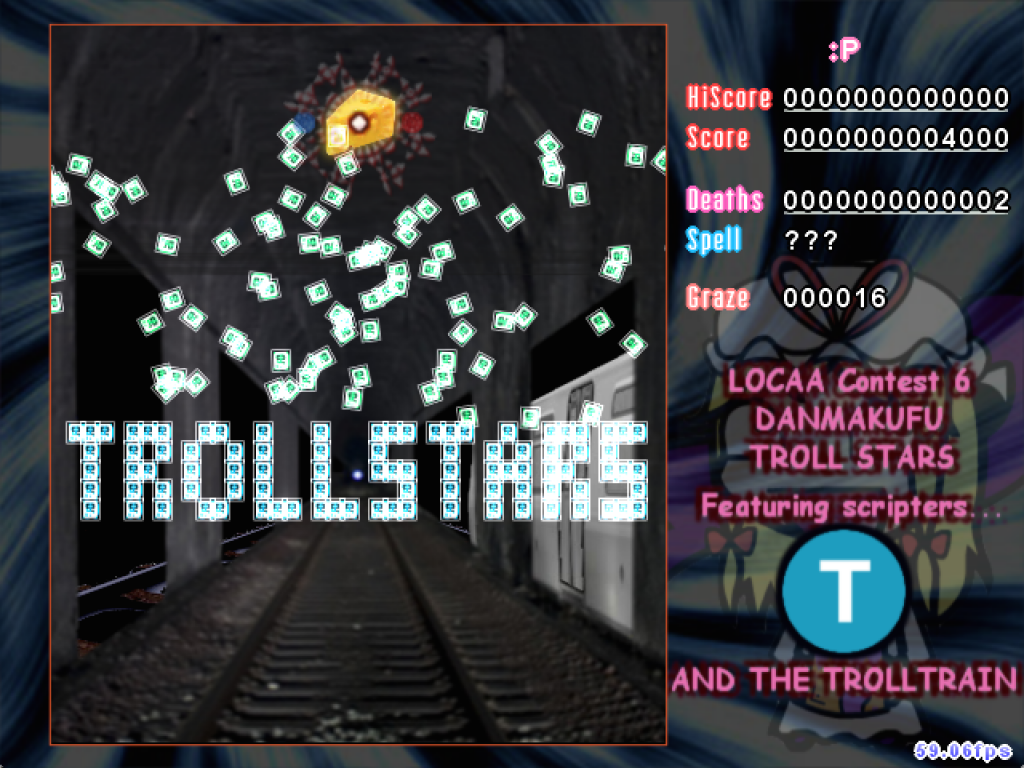 RELEASE INFORMATION
Release Date: September 9, 2014
Download: Download RC-1 (September 9, 2014)
Install: Place the unarchived directory within the 'script' directory of your copy of Touhou Danmakufu ph3 [.1]
Official Post: Click Here for Information
GAMEPLAY AND SYNOPSIS
Danmakufu Troll Stars is a very much not standard Touhou-esque vertical-scrolling shmup featuring members of the Danmakufu community. As a parody and troll script, it aims to make the player suffer as much as humanly possible while trying to milk every possible tear of laughter from them.
Made for the LOCAA 6 (Troll scripts) contest, I like to believe it to be a major, major success.
Please enjoy. Die easy!
POSTMORTEM
This project is not meant to humiliate, insult, or in any way degrade any of those who are featured. This content of this script is not meant to be taken seriously. Please do not publicly or privately degrade any of those featured or exaggerate the points featured in this script to the point that those featured feel more uncomfortable than necessary.
[November 18, 2015]
Arguably my best script in terms of sheer originality and creativity since RaNGE 10 Sanae. This is technically a troll script, but I assure you that although you are probably going to be trolled very hard, it is quite interesting and worth playing/watching other people fail at. In the description of the embedded video, there are links to other youtube videos of people doing runs of the script. This script took a few months to make but was definitely worth making. Have fun!
LEGAL AND CREDITS
The Touhou Project is owned by Team Shanghai Alice (ZUN). Various resources in this game are not original - music comes from the LENK64 and ZUN (ZUN's Strange Works). As this is a parody work, graphics come from a number of sources including but not limited to: Official and Spinoff Touhou Project Games, MTA New York City Transit, and Walfas.
I do not and will not allow unauthorized redistribution of this game and/or use of original code/assets without express permission. No parodies will be allowed since this work is a parody in of itself.