DANMAKUFU WARS
SPAREN VS PHANTOMSONG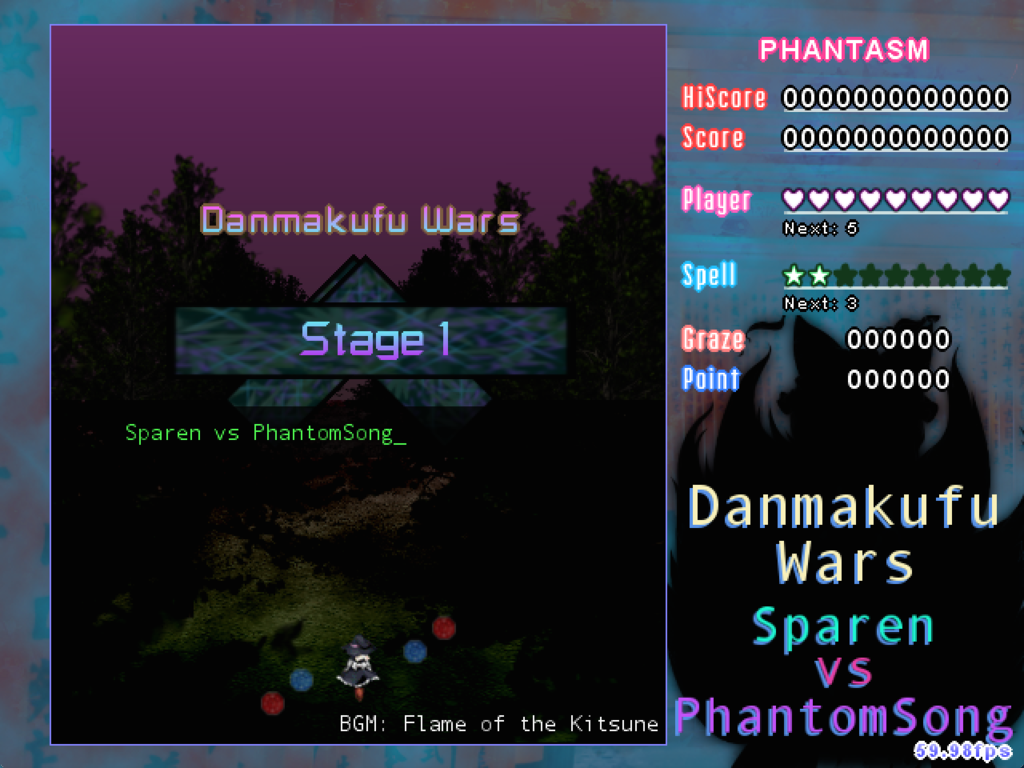 RELEASE INFORMATION
Release Date: August 16, 2015
Download: Download RC-3 (August 16, 2015) [+archive_img]
Install: Place the unarchived directory within the 'script' directory of your copy of Touhou Danmakufu ph3 [.1]
Official Post: Click Here for Information
GAMEPLAY AND SYNOPSIS
Welcome to Danmakufu Wars, a heated battle between me and PhantomSong!... or not so heated after all. This is my half of the Danmakufu Wars 'competition'. Both challengers (me and PhantomSong), in order to teach me to have fun while scripting in order to make my scripts good again (and so I like what I do a bit more), decided to have a three non spell three spell no-pressure no-deadline 'contest' with one-another. Rules were simple. Choose one of the three provided waifu and make a script. From my [Sanae, Kogasa, Utsuho], PhantomSong chose Kogasa. From PhantomSong's [Yuyuko, Ran, Kokoro], I chose Ran.
And so the quest began for me to make what I want to be my best standalone script. Ever.
My Danmakufu Wars entry is a standard Touhou-esque vertical scrolling shooter with one standard difficulty. There are no gimmicks of the sort. Just lag and hopefully beautiful danmaku.
Do not use Mr. Blue's Reimu with this script.
ADDITIONAL NOTES
[November 23, 2015]
After a very long time, I finally decided to make another script that wasn't a full game. Done because I realized I wasn't having fun making scripts anymore, PhantomSong challenged me to a contest of sorts. You can find the full details in the Official Post, of course, but making it really helped me in many ways - I just feel like the danmaku was actually somewhat meaningful and hopefully original.
LEGAL AND CREDITS
The Touhou Project is owned by Team Shanghai Alice (ZUN). Various graphics in this game are not original and originate from official and Touhou Project games.
I do not and will not allow unauthorized redistribution of this game and/or use of original code/assets without express permission.