RANGE 17
SHIMMERING CYCLOCHASM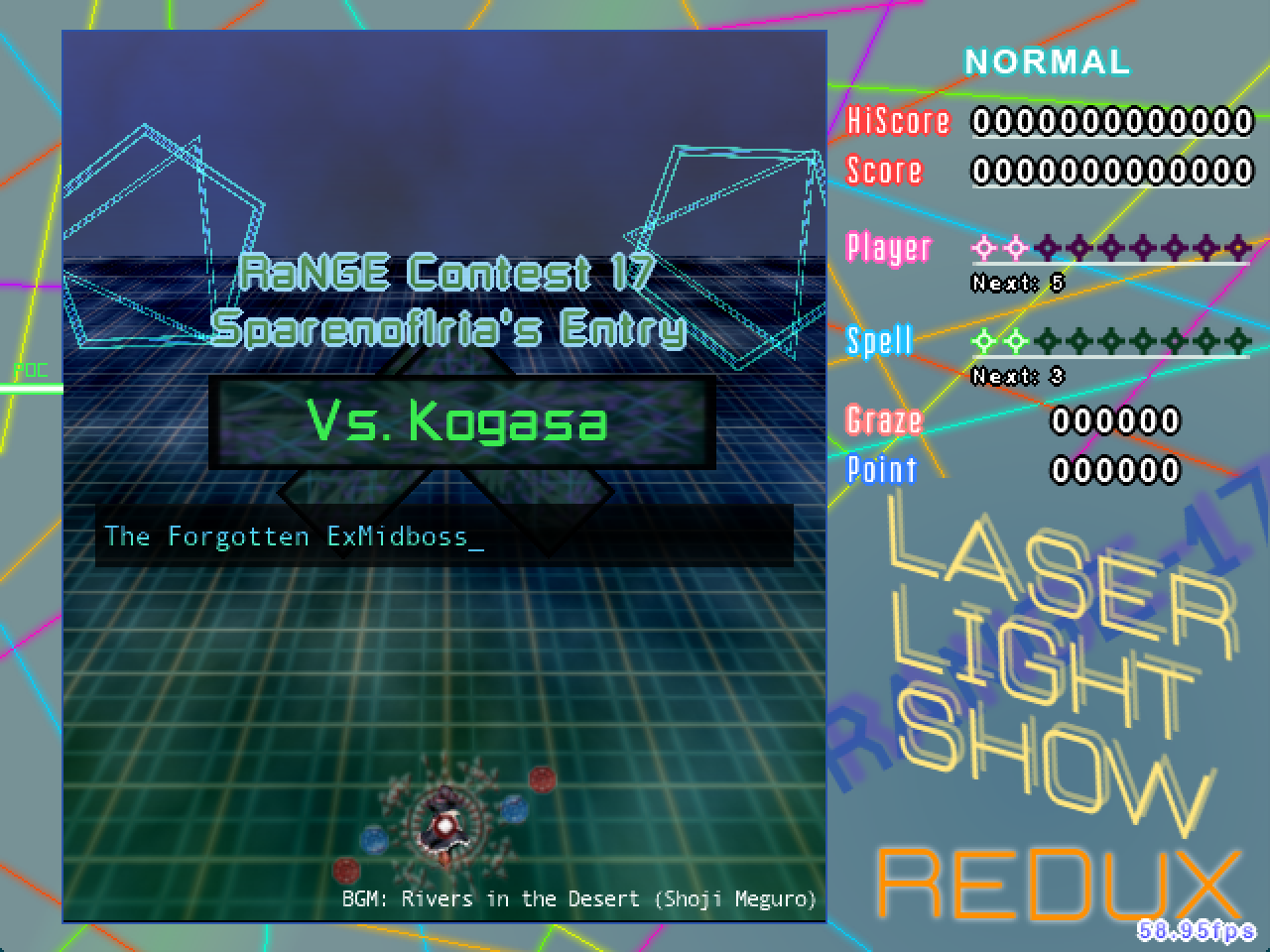 RELEASE INFORMATION
Release Date: July 13, 2017
Download: Download RC-1 (July 13, 2017) [+archive_img]
Install: Place the unarchived directory within the 'script' directory of your copy of Touhou Danmakufu ph3 [.1]
Official Post: Archive MotK (Original Post)
Contest Page: Archive MotK (Original Post)
GAMEPLAY AND SYNOPSIS
My RaNGE 17 Contest Entry is a standard Touhou-esque vertical scrolling shooter. The theme of the contest was to utilize only lasers, and so the script features lasers in a wide variety of forms. Like my RaNGE 16 Contest Entry, the system is directly based off of that of SeitenTouji AMB and the script therefore comes loaded with extra features. There are two difficulties - Normal and Hard, and two players - my Artifact 2 Marisa and Ultima's DDC Reimu.
Default starting lives are configurable, and extends are gained every three life fragments (life fragments are obtained when not dying to an attack, spell fragments if you die to an attack).
POSTMORTEM
[January 18, 2018]
Looking back at this mess of a script, I'm left with a few overarching thoughts. Firstly, that last spell was utter trash, and I could have definitely chosen a less buggy and less unfair mechanic than the curvy lasers I went with. Secondly, the nonspells were way cooler than the spells with the exception of that first nonspell being horribly unfair on Hard. Finally, hey, it wasn't actually so bad. It was an interesting script to make and although it may not have been my best work, I think I did some cool stuff.
LEGAL AND CREDITS
The Touhou Project is owned by Team Shanghai Alice (ZUN). Various graphics in this game are not original and originate from official Touhou Project games. Music from ZUN's Strange Works and Persona 5.
I do not and will not allow unauthorized redistribution of this game and/or use of original code/assets without express permission.